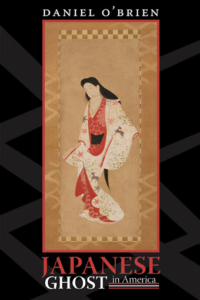 With excitement and enthusiasm that is bubbling over, I'm pleased to announce the newest title in the Japan Series:
Japanese Ghost in America.
https://books.friesenpress.com/store/title/119734000037506009
Having envisioned a ghost from Japan visiting Minnesota since 2009 it is with joy and satisfaction that I announce this work has finally come to fruition. Feel free to contact me below for comments or more information. (Synopsis and reviews follow contact form).
The Japan Series "Mysterious Stories Related to Japan" grew a lot during 2017. Not only was the editing for Japanese Ghost in America completed, but also, the next book Pilgrimage was completed by Daniel in the Nanowrimo National Novel Writing Month of November 2017.
Synopsis:
Jimmy, an introspective and world-traveled social studies teacher, lives a quiet life working in a Minnesota high school. Having lived in Japan for several decades—a country that he considers his second home—he is caught off-guard by the ancient and unfinished legacy that has followed him back across the Pacific. As the sun sets, Jimmy begins to see strange events in his home: a disembodied hand in the moonlight, then the full apparition of a Japanese woman in traditional kimono. Despite being separated by the boundaries of time and space, life and death, Jimmy and the mysterious woman discover a karmic connection. Together, they search for the root of her eternal restlessness in the hopes of attaining her redemption. Jimmy must unravel her past to discover how their destinies are intertwined, and how they might heal one another.
Reviews:
O'Brien's Japanese Ghost in America is not only a gripping and suspenseful read, but offers more on many levels. Ghost story—romance—cultural history—Buddhist spirituality: all keep the fascinated reader racing from first page to last. Jimmy and a most unusual Ghost journey together toward redemption, as their interwoven characters interact through revelation and recognition. And along the way, we are treated to O'Brien's deep and sensitive knowledge of Japan, creating a graphically realistic context. A masterpiece, destined to become a classic! —Laurel Means, Author, Editor, & Reviewer for English Studies, Comparative Literature, and other journals.
This intriguing story was born from Daniel O'Brien's years of study of Japanese language, history, and culture. His writing reflects his deep knowledge about and sincere respect for Japan and the Japanese people. The reader will be absorbed in a journey where Jimmy, a protagonist, and a Japanese ghost seek their own "redemption" together. —Michiko Todokoro Buchanan, Ph.D., Director of Japanese Language Program Department of Asian Languages and Literatures,
University of Minnesota
https://books.friesenpress.com/store/title/119734000037506009
Cover Art: Unknown artist, Japanese, 17th century, Lady from the "Visiting Kawachi" Episode of the Tales of Ise, second half 17th century Hanging scroll; Ink and color on paper Minneapolis Institute of Art, Mary Griggs Burke Collection, Gift of the Mary and Jackson Burke Foundation 2015.79.99 Photo: Minneapolis Institute of Art (with Gratitude from the autho